From identity theft to account takeovers, today's consumers and businesses alike are at high risk for online security breaches. Criminals are targeting companies across every industry, including health care, social media, finance, tech and retail. Cybercrime is not limited to the theft of money, intellectual property and financial data, but it also negatively affects a company's productivity and reputation. While some companies can recover from these cyberattacks, others cannot withstand the financial repercussions and are forced to shut down entirely.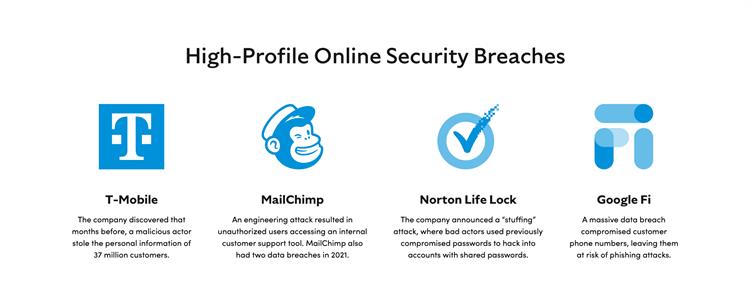 Within the first two months of 2023, we have already witnessed several high-profile online security breaches. By 2025,
cybercrime is predicted to result in a global economic loss of $10.5 trillion
. As high-profile companies and grassroots small businesses alike are targeted and compromised, it's clear that a robust online security solution is as important as ever. To better protect your business from cybercrime now and in coming years, it's necessary to identify the key trends in online fraud. Here are the predominant online fraud trends and security threats that experts are predicting for 2023.
Recurring fraud: A Veriff study reported that recurring fraud rose by 50% in 2022. Criminals are likely to leverage multiple attacks against systems they've already successfully infiltrated.
Identity farming: Identity farming is a form of cyber fraud in which a cybercriminal creates fake accounts on mass using stolen user information, and then uses these accounts as tools to engage in all types of fraud.
Deepfakes: Deepfakes are photo alterations that enable cybercriminals to manipulate stolen photos and documents for fraudulent identity verification purposes. Attacker access to AI (Artificial Intelligence): As artificial intelligence becomes more sophisticated and popular, cyber attackers and fraudsters may manipulate AI technology to automate attacks and bypass security defenses.
Spear Phishing: This form of phishing involves sending fraudulent emails from trusted senders. Spear phishing often uses familiar phrasing, tone, or content, sometimes customized as a corporate advertising effort, to compromise businesses by targeting specific employees.
Cloud Vulnerabilities: Cloud services are popular because of their simplicity of use, but without proper security, they can be more easily breached than traditional storage solutions. One study showed that 27% of organizations using a public cloud infrastructure reported a security incident.
Ransomware as a Service: Ransomware is a well-known cyber security issue, but recent years have illuminated a trend of less-sophisticated hackers buying ready-made kits known as "Ransomware as a Service." The kits typically target small businesses with weaker online security.
Security professionals across the board know that in this age of ever-increasing cyber activity, cyberattacks are less a question of "if" and more a question of "when" and "how bad." The good news is, increased cyber threats also lead to more effective online security solutions. Top identity verification and online security providers like EVS are continuously working to develop products that keep your business and your customers safe and protected from cyberattacks. Here are a few online security trends you may see in 2023.
1. Goodbye VPN
With the rise of work-from-home and hybrid workplace models, companies have encouraged the use of virtual private networks for remote employees—but VPNs are proven to be highly vulnerable to cyberattacks. Cybercriminals can use a "man-in-the-middle" attack to intercept and alter communications between victims and intended recipients. In May 2022, the confidential information of nearly 21 million users was stolen and leaked online when SuperVPN, GeckoVPN and ChatVPN were breached. While virtual private networks have not been completely phased out, they will soon be replaced by more secure zero-trust strategies.
2. Zero Trust
Companies are turning to the zero-trust strategy to protect themselves and their users. Zero trust is a highly secure, cloud-based multitiered approach to online security that requires users to verify and authenticate their identity every time before gaining access to a resource, regardless of device or network. It also requires identity assessment and verification when accessing additional resources, so that no one can be granted blanket access to all resources without multiple authentication methods and password managers.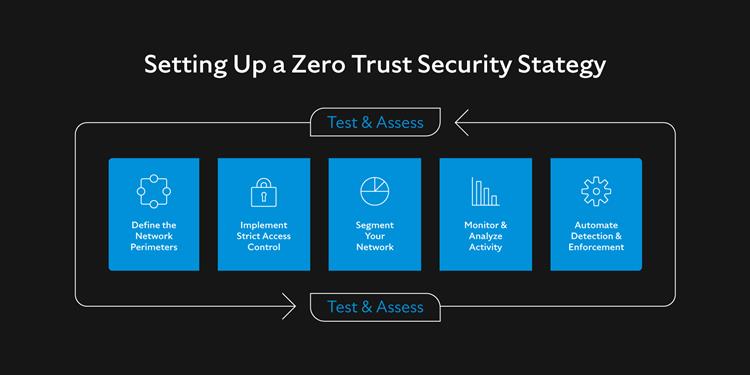 Zero trust is key to maintaining online security, with evidence from a
2022 incident response report
noting that half of all digital companies that were victims of cyberattack did not employ zero-trust strategies on their core internet facing systems. In fact, all US federal agencies are now required to implement a zero-trust environment by the close of the 2024 fiscal year.
3. Threat Detection and Response Tools
As cloud-based zero-trust environments soon become standard practice, the demand for cloud-based fraud detection and response solutions will also increase. Many businesses are staying a step ahead of cybercrime by investing in threat detection and response tools like endpoint detection and response (EDR), extended detection and response (XDR) and managed detection and response (MDR). These tools use historic data to detect and block threats designed to evade traditional defenses.
4. Outsourcing Cybersecurity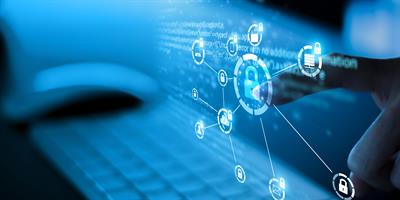 It can be difficult for companies to conduct business while also constantly worrying about managing their own cybersecurity. Internal security teams can be short-staffed and easily overwhelmed with the sheer amount of data to be processed and threats to be managed, but an overworked or underprepared security team is the last thing any business needs when attempting to thwart cyberattacks. For this reason, a growing number of companies are choosing to work in tandem with a security partner. Outsourcing cybersecurity can not only better protect your company from attack, but it can also assist you in maintaining effective and affordable cyber insurance. As cybercrimes increase, so do cyber insurance premiums, and one key method of finding the most cost-effective insurance premium is to provide evidence of your company's increased cyber security. Online security measures are necessary to protect your business, and EVS is equipped to help organizations stay safe and prepared. EVS provides unparalleled expertise and experience in online security and identity verification. If your business processes high volumes of financially sensitive information, take steps now to make sure that you are as protected as possible from cyberattacks. If you want to learn more about how EVS can build your company's online safety,
reach out to us for a consultation
.