Why ID Verification Services Matter to Banks and Financial Institutions?
Identity verification has always been a part of the onboarding process when customers create an account at a bank or financial institutions. The process of ensuring the people who open accounts are who they claim to be is crucial for maintaining security and preventing crimes like fraud and identity theft, and is necessary for maintaining legal compliance.
But with the explosive growth of online banking, customers' growing user experience expectations and increased demand, the need to integrate efficient and secure identify verification into online banking products has become even more necessary.
What Is Identity Verification? Why Does It Matter?
Identity verification helps ensure that the clients banks, financial institutions (like brokerage firms or lenders) and other industries do business with are who they say they are by checking multiple databases to confirm and verify the user's personal information, such as their address, social security number, date of birth, and more. Identity verification helps maintain federal and international compliance programs, adding a layer of security that shields banks and financial institutions from the risk of being accidentally involved in money laundering or terrorist financing schemes.
In 2021, so much of our data is stored online, and banks are no exception. While online banking is certainly making the service more accessible to customers, banks also have the added dimension of managing customer information in the digital space, requiring enhanced security. From lobby visits to phone calls to those with a laptop and Internet connection, banks are receiving new customers from a wealth of avenues, all of which require stringent security.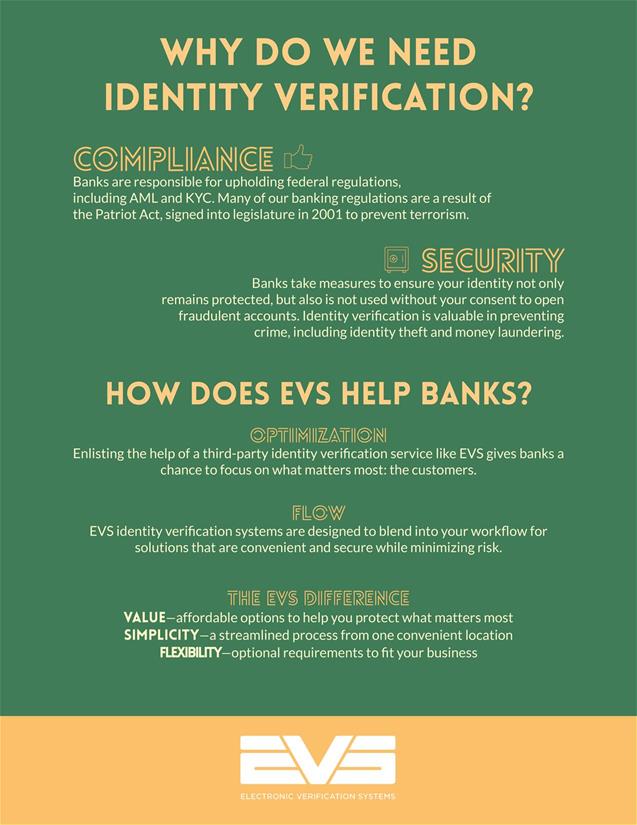 Why do we need electronic verification?
Banks and financial institutions are responsible for upholding regulations set forth by the U.S. Government. Two of the largest that require identity verification at time of account opening are the Anti-Money Laundering Act and the Patriot Act. The Anti-Money Laundering Act (AML) outlines activities financial institutions must perform to stay in good standing with legal requirements that help catch suspicious activities related to money laundering.
The Patriot Act is designed to "deter and punish terrorist acts in the United States and around the world." One critical aspect of keeping citizens safe is identity verification as well as continuous monitoring for suspicious activity, which can often manifest through monetary transactions.
Identity Verification for Banking
We live in a digital world where people have the Internet at their fingertips, and with it, a wealth of information that can be misused. While online banking is incredibly convenient, improving accessibility and allowing people to sign up and manage their bank account from virtually anywhere, it has opened the door for a greater likelihood of fraudulent activity, money laundering, and identity theft.
In 2018, BI Intelligence took a closer look at how banks onboard new customers, concluding that the process of verifying the identity of their customers online was not only strenuous, but felt insecure, making it difficult to ensure compliance with federal regulations. Either banks are forced to allocate costly time and personnel to ensure security, or security is forgone in the name of meeting the needs of each and every customer. Neither option is good. In 2021, the added layer of customers being able to sign up for bank accounts totally online only adds to the demand for innovation.
In fact, Deloitte found that consumers (internationally) have heightened their expectations, and think their bank's online platform should act like the those produced by the top technology brands. The experience your customers have—from the moment they open your app or website—while enrolling is even more important than any in-person experience they have, so your onboarding process should include quick and seamless integration of your identity verification into your user-facing platform.
How does Electronic Verification Systems (EVS) Help Banks Verify Customers' Identities?
Electronic Verification System's Identify verification allow clients to verify the identity of their customers and ensure they are who they claim to be by checking data across multiple databases efficiently. These third-party systems consist of constant monitoring and often real-time analysis that alerts clients to potential fraud including high risk addresses, past fraud alerts, registering under a deceased person's address, and more.
For banks, third-party identity verification systems are incredibly valuable for ensuring compliance with regulations like know-your-customer (KYC) and anti-money laundering (AML) while simplifying the process. This gives banks time to spend with their customers and ensuring their needs are met through day-to-day transactions without being caught up in constantly monitoring for suspicious activity.
This simplification comes in the form of time, money, and ensuring quality. Banks and other financial institutions can entrust this monitoring to dedicated experts rather than allocating that resource internally. These electronic verification entities provide crucial analysis, expertise, and the tools for fraud protection altogether.
Equipping Banks and Financial Institutions for the Future
Electronic Verification Systems minimize risk while streamlining the process of onboarding new customers and maintaining the security of those who have already signed up. Identity verification systems reduce liability while aiding banks in complying with the Patriot Act, CIP, and other regulations. Technology moves fast, and EVS is dedicated to providing convenient and secure identify verification solutions so that banks everywhere can focus on what matters most: serving each customer. By first meeting the needs of banks and financial institutions with dedicated third-party verification systems, companies like EVS can help pave the way in leading to even greater innovation as the banks and financial institutions further integrate into the digital sphere.
Protecting Customers' Identity, Together
Want to learn more about how EVS can help banks and financial institutions ensure compliance while verifying the identity of your future customers? Contact us or give us a call at 866-491-5665 to speak with an expert or request a demonstration.
References
Business Insider, IDENTITY VERIFICATION IN BANKING: How banks are using new authentication methods to boost conversions and keep their customers loyal, https://www.businessinsider.com/identity-verification-in-banking-2018-3-22
United States Government, USA Patriot Act, https://www.fincen.gov/resources/statutes-regulations/usa-patriot-act.