According to a study conducted by the National
Cybersecurity Alliance and Symantec, two-thirds of small/medium businesses
(SMBs) do not consider cyber attacks as a threat. Many business owners believe
that hackers and cyber thieves are only interested in larger corporations, as
they have more desirable assets. As breach reports have shown, small to
midsized companies account for a large number of victims of online fraud.Forty percent of 1 billion-plus cyber attacks
prevented in Q1 of 2012, were aimed at businesses 500 employees and less. Even
though small business owners may not feel they are at much risk, most cyber
criminals target small companies for several different reasons. One reason that
small businesses are so vulnerable is that fact that online thieves see them as
low-hanging fruit. SMB owners do not seem themselves as being attractive enough
for online fraud, and therefore do not invest in protecting themselves.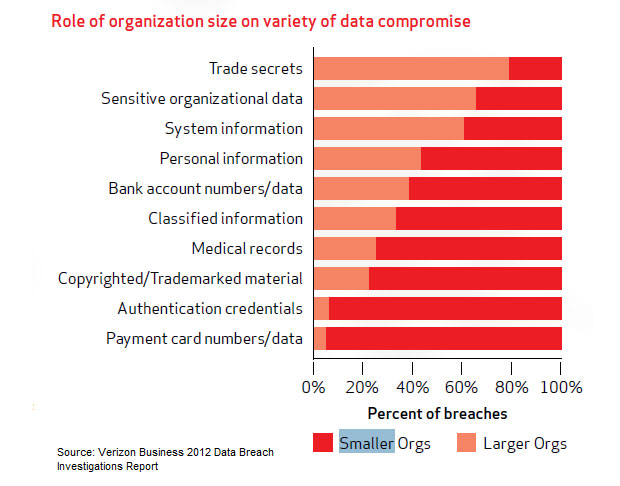 In addition to lack of online security, small business may
also think they cannot afford fraud prevention
even if they do recognize it as an important asset. Identity verification and
authentication serve at the forefront of fraud prevention that wont cost
smaller companies an arm and a leg. By implementing verification
and authentication, smaller companies can ensure that the person visiting
their site is the true identity holder. As Eric Knapp, VP of Client Services,
discussed in his last blog
more start-ups and small business are going straight to an online business
model as physical storefronts become less important. Having identity
verification and authentication as a part of your fraud prevention solution
will make your business safer and more successful. Protecting your consumers
will help build trust in the business to consumer relationship that is vital
for start-ups reputations. Being a victim to a break or hacking early on in a
businesss life cycle and be very costly and difficult to recover from. Build
report and protect your consumers by enforcing fraud prevention measures to
help grow your business.
[Contributed by EVS Marketing]